DO YOU HEAR THE CRACKLING? IT'S US.
DO YOU HEAR THE CRACKLING? IT´S US.
Great colleagues in a family environment
"The fact that I look forward to work every morning speaks for itself, I think. Great colleagues and the family atmosphere are simply unique, despite the size of the company and the different locations".
High flexibility of working hours
"If you have the feeling you are getting something in return, you also like to give. In my area, high flexibility is required in terms of working hours. But because the work-life balance is highly valued at ISR, this is not a problem for me".
I can contribute new ideas
"Every day I have the opportunity to apply my theoretical knowledge in practice and to contribute new ideas. Already as a junior, I have personal contact with customers and take on responsibility. And: I can always rely on the support of my team.
Felicitas, Senior Consultant Digital Operations

The technologies of the future inherit new challenges and make us part of great technical possibilities and developments at the same time.
We bundle this responsibility in teams at our six offices throughout Germany.
Would you like to become part of a corporate culture in which loyalty and professionalism come first? – Gain a first insight into the way we work and live our work – we look forward to meeting you, too.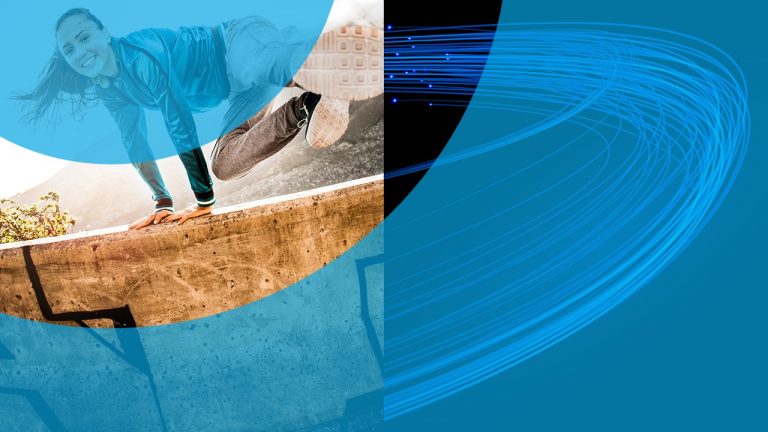 A good work-life balance is crucial for many employees. Since we support employees with children it is very important to us to offer flexible working hours and part-time models as well as a childcare allowance. Every ISR employee with children of non-school age receives a monthly flat-rate childcare allowance. The amount depends on the employee's working hours (full-time vs. part-time).
By bicycle to work or to the ice cream parlor in the neighboring town? Cycling keeps you fit, protects the environment, clears your head and is financially supported by the JobRad model.
With the JobRad leasing model, you can purchase your dream bicycle or e-bike over a period of 36 months. The monthly installments are deducted from the gross salary of the respective employee so that there is a tax advantage compared to direct purchase. At the end of the leasing period, the employee receives a purchase offer and the option to return the bike free of charge.
The health of all employees means a lot to us. We therefore subsidize measures for the prevention and improvement of health in the fields of exercise, nutrition, stress management and addictive drug consumption. We contribute up to 50% of the funding to specific measures, such as back training, spinal gymnastics, non-smoking courses and much more.
ISR also financially supports individual sports courses such as badminton and the annual participation in the Münster Marathon. In addition, hot and cold beverages are available to our employees at all offices free of charge. Fresh fruit is also delivered weekly to the headquarters in Brunswick and the Münster office.
The ISR Employee PC Program allows our employees to order high-quality PCs, notebooks, tablets and smartphones for private use for themselves and family members for a period of 24 months. The monthly rates for the devices are offset directly against the gross salary as part of a salary conversion, resulting in an individual tax benefit.
It is important for us to make the company pension scheme attractive for our employees. Therefore, we are happy to contribute 25% of the converted amount to the company pension scheme for our employees. The amount for the pension scheme tax-free and without social security contributions. The gross salary is thus directly converted into a pension. It is possible to take over third-party contracts and we will be happy to check them individually.
More time for the family, building a house or an extended round trip? With our flexible vacation model this is possible! We offer the increase of vacation days from 30 to 40 or 50 days per year. The individual extension of the vacation entitlement is connected with a monthly salary waiver, which is calculated like unpaid vacation.
With this flexible arrangement, we want to give our employees the freedom to decide for themselves how much vacation they need and want to take.
We offer advantages in many ways. Our corporate benefit program brings a whole world of advantages on board. The platform provides employee offers from every sector: from leisure, fashion, technology and finance to concert tickets and mobile phone offerings.
This brings the possibility for our employees to any number of hot deals at well-known providers. Thanks to the mobile use of the tool, worthwhile shopping can also be started right in the store.