The solution for professional contract management
Full control over your contracts
Manage all contract data and processes in one central and secure software.
ISR Contract Manager ensures full control over all contract processing data and processes in your company. With our software, you not only keep a central overview of all deadlines, contract conditions and important documents – you also automate your release processes with a strong authorisation concept and can access all contract data and processes from anywhere.
You too can use the ISR Contract Manager – for professional contract management today.
Digital Contract Record
In the contract file, you have full control over all contract data. In the editable dashboard, you can view all active tasks, related documents, comments and changes in addition to various master data.
Contract Validation | Release
Maintain an overview of all contract review and approval processes in your company. The Contract Manager supports you and your employees by automating the completion of tasks within the individual process steps.
Deadline Monitoring
Reliably monitor all deadlines and appointments with the cyclical reminder function and resubmissions.
This ensures that no task is lost and you can concentrate fully on your day-to-day business.
Competences | Data Security
In the ISR Contract Manager, authorisations can be easily clustered into user roles, which you can then assign to employees individually. All confidential information is kept safe.
Reporting | Controlling
For secure and reliable controlling, the Contract Manager offers meaningful ad-hoc reports, analyses and a reporting function with export to CSV format. This allows you to manage all processes smartly and clearly.
Integration
Adapted to your existing archive and ERP systems, we seamlessly integrate the ISR Contract Manager into your existing system landscape or alternatively offer a cloud solution.
The responsive web design enables the display on all end devices in the browser – i.e. completely additional apps. Whether mobile device, notebook or desktop PC, you are on the move regardless of the device.
Revolutinize




Your Contract Management
Digital Contract Processing with the




ISR Contract Manager - How it works:
01 CREATE CONTRACTS
Create contracts from anywhere and at any time: Once you have entered all the required data, the system creates a new contract file that can be viewed directly by all authorised persons.
02 CONTRACT SEARCH
You are at a customer meeting and need a specific contract file quickly? No problem: With the help of our extensive filter options and the full text search, you can find contracts in seconds.
03 CONTRACT RECORD
Everything at a glance: In the digital contract file you can see all important information at a glance:
Master data
Notice and renewal periods
Resubmission
Information dates
Active tasks
Documents
Comments
Changes & History
04 CONTRACT VALIDATION
The Contract Manager controls all your contract review processes – from the factual review to the actual approval. In the multi-stage approval process, the system forwards the respective review steps in the correct order to the responsible and authorised employees.
05 DEADLINE MONITORING
With the cyclical reminder function, contract review tasks are never lost again: If no processing of a task takes place after 3 reminder emails, an escalation is triggered automatically and the contract manager and the contract owner are also informed.
"As a user, we securely consolidate all contracts within the company in one central location with the Contract Manager. This gives us access to our contracts and contract processes from anywhere. Using our software in-house has been a complete success. We have already been able to significantly reduce our process costs and turnaround times."
DSGVO-compliant
Securely SSL-encrypted
Developed and hosted in Germany
Easy to use and secure


E-Signing
With the connection of a qualified electronic signature (e.g. EMS E-Sign) in the ISR Contract Manager, you can make your business processes even more efficient. Your advantages at a glance:
   Faster contract conclusions
   Support of various scenarios
   Improved support for your business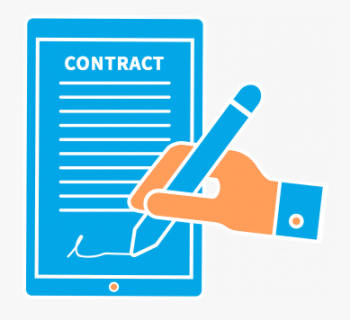 Adapted to your needs and existing system structures, we have the right offer for you.
Our configurable standard product offers all important functions and features for your digital contract management. Individual extensions are also possible according to your requirements.
Together with you, we create a solution perfectly tailored to your company, which we seamlessly integrate into your existing system landscape with our implementation package.
Our introductory package offers the perfect opportunity to introduce our contract management software to your department or company. The package includes, among other things:
Licences incl. new versions
12 months maintenance
Intro-Project (max. 4 weeks)
You would like to know more?


ARRANGE A LIVE-DEMO!
Get to know the possibilities and advantages of our software in a non-binding live demo.